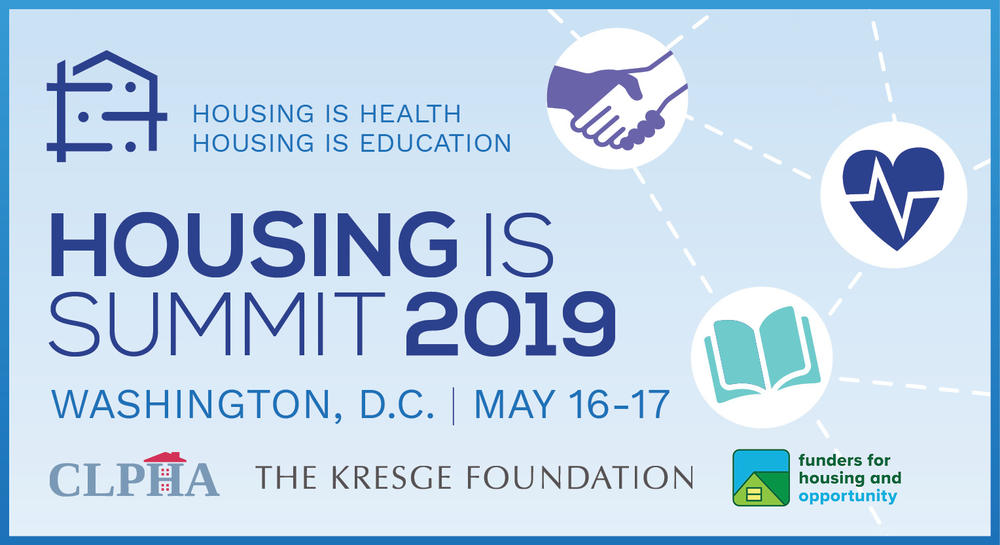 Building Partnerships Across Sectors to Improve Life Outcomes
May 16-17, 2019 | Washington, D.C.
The Council of Large Public Housing Authorities (CLPHA) is excited to share that our annual Housing Is Summit will be held on May 16-17, 2019 in Washington, D.C. You are invited to join practitioners, researchers, and policymakers from the affordable housing, education, and healthcare sectors for this engaging two-day event.
The 2019 Housing Is Summit is a unique opportunity to connect with other leaders across systems and silos to forge new partnerships, explore innovative ideas, and develop solutions to improve education and life outcomes. Highlighting the ways we can transform systems to better serve low-income people, the Summit will offer two days of plenary speakers/panels, breakout sessions, and caucus discussions devoted to intersectional thinking and opportunities for action.
Join us in May to advance collaborative approaches that increase opportunities for low-income individuals, families, and communities.
We encourage you to share this invitation with policymakers, practitioners, decision-makers, researchers, and advocates who are working to improve life outcomes for low-income individuals and families across disciplines to join us at the Summit.
Do you want to collaborate with other cross-sector thinkers and leaders, and share your work and expertise? Register for the Summit!
There is no fee for this event, but registration is required. Space is limited, so register soon to secure your spot.
What's in Store for the Summit?
Click below to view a draft agenda of the 2019 Summit! 
Featued Speakers 
We are pleased to announce that renowned physician, epidemiolists, researcher, and activist Dr. Camara Jones will be presenting as a keynote speaker at the Summit this year. Jones will open day two of the conference exploring the need to address social determinants of health to reduce health disparities as well as the interdisciplinary nature of a strong safety net. Click here to learn more about Dr. Camara Jones and her work. 
CLPHA is pleased to announce that David A. Williams of Opportunity Insights will be a keynote speaker at the Housing Is Summit in Washington, D.C., May 16-17. Williams will open Day One of the conference, sharing promising insights from new research on the Creating Moves to Opportunity (CMTO) Project and Opportunity Insights' new Opportunity Atlas. Click here to learn more about David Williams and his work.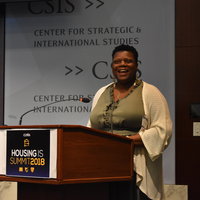 ​At our 2018 Summit, more than 260 committed professionals from the housing, education, health, government, and foundation sectors came together to share expertise and learn from one another.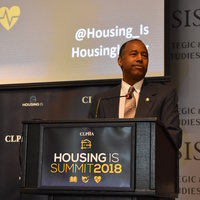 The 2018 Summit brought national policy leaders including U.S. Department of Housing and Urban Development Secretary Ben Carson who presented a keynote address that touched on some of HUD's efforts to work across sectors with other federal agencies.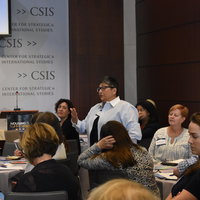 Attendees Told Us: 
"Perfect timing for the work we need to do in our community."
"Together, we are more powerful!"
"Partnerships are key, and we can learn from each other. Maintaining and nurturing relationships with partners are important."
"The Housing Is platform is redefining how we do our work and is needed now more than ever."
The Housing Is Initiative, led by the Council of Large Public Housing Authorities, helps build a future where systems work together to improve life outcomes.
Fragmented service delivery systems and sioed policymaking often fail to address the needs of low-income individuals and families holistically, resulting in stagnant outcomes and costly inefficiencies. CLPHA's Housing Is Initiative is based on the premise that systems can better meet these needs and improve life outcomes when they work together.